I've recently come across a MacBook Pro (17-inch Mid 2009) in almost pristine condition. The machine owes me nothing so far, but considering its condition, build quality and that incredible 17-inch screen I would like to see what can be done with it.
It didn't power on. The machine did start for a while, but only if I disconnected some auxiliary components to reduce the current draw on the Logic Board. The LED on the front illuminates for a second, then the machine clicks off. Sometimes it will make it half way through boot and then suddenly shut off. In the rare occasion the machine does make it to the desktop, usually after five or six attempts, it will generally stay running without issue. After a while the machine stopped starting up entirely no matter what I tried.
I tested the PM_SLP_S4_L line which is a common failure on these boards and found it was reading at 0.3v, much too low to start the system. I replaced the 330uF 2.5v Poly-Tant capacitor at position C7771 with a Poly-Film capacitor, and with some creative component placement, this resolved the problem. The rail now comes up to 1.1v and the machine powers on.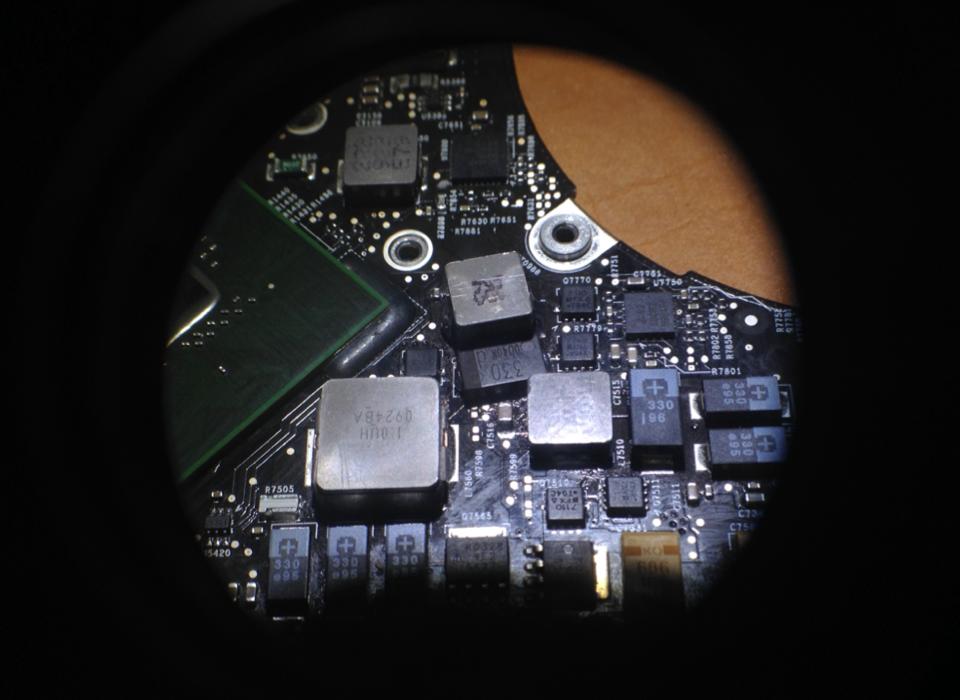 However it doesn't complete POST. The front sleep LED comes on, the fans spin, the HDD receives power and that's about it. Removing the memory modules results in no change, no memory beeps. The board did work previously, albeit intermittently, which makes me think something went awry in the process of replacing the capacitor.
I would like to probe around the board further and see what went wrong, but I wouldn't know where to start. I have seen some online sources offering schematics (SCHEMATIC,Folsten_MBP17) and board views for the 820-2610 series of boards, but I thought I would ask here first. This board has always been a great resource for hobbyist electronics repairers and if someone does have it, it saves me having to share my credit card details with some rather sketchy websites.
Cheers in advance.
~ iMic.