Re: Cheap Source for Racks?
---
Something else I'm not buying yet (but probably will) is a patch panel. Depending where its final home is, there probably won't be any Cat5e/Cat6 run, so I'll have to run that myself. Since I would probably be using cheap wall cable (solid), I would want to patch panel that to avoid cable breakage down the road.

However, for testing and the like I don't need it, so it will wait. Too much money spent this week on the project.
__________________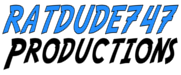 (Insert witty quote here)